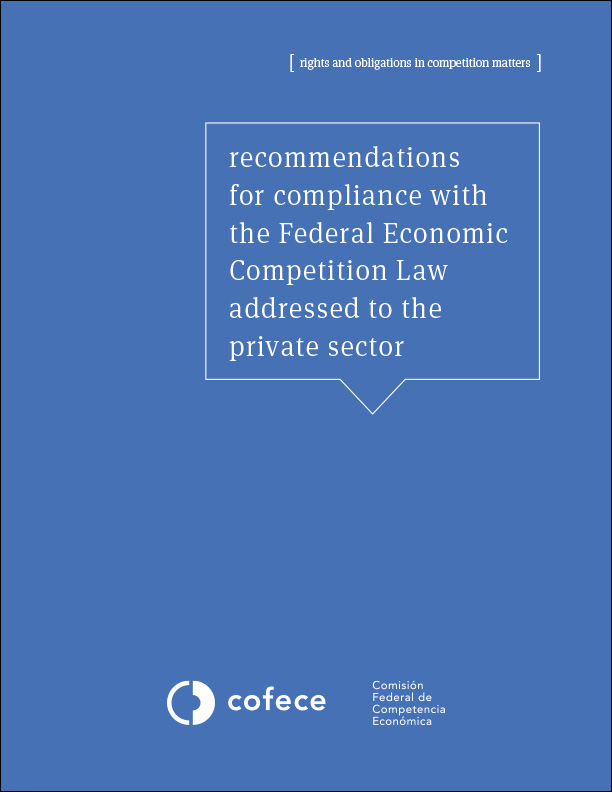 Recommendations for compliance with the Federal Economic Competition Law addressed to the private sector
Publicado en: 2015

Government sector
Regulation
Compliance with the Law
Competition culture
Business sector

Elaborado por:
COFECE
Faced with this new regulatory scenario, COFECE issues this document with the aim of making recommendations and facilitating compliance with the LFCE and related regulations, aimed at companies, professionals, business chambers and associations, and professional groups. Hereinafter, the term organization will be used to refer to any of these agents. Seeking strict compliance with the LFCE, not only benefits society, but also allows organizations
to reduce risks of legal and economic contingencies that could damage your finances and your reputation. Likewise, it prevents the people who make up the organizations from facing administrative, civil, and even criminal sanctions.
This COFECE effort follows the best international practices. Various organizations (governmental and non-governmental) highlight the importance of respecting the legal frameworks on competition matters, to ensure efficient functioning of the markets and generate economic benefits for society. For example, the Organization for Economic Cooperation and Development (OECD), in its OECD Guidelines for Multinational Enterprises, includes a section (Chapter X) in this regard; For its part, the International Chamber of Commerce published a guide for compliance with antitrust regulations aimed at businessmen in all countries. Likewise, other competition authorities generate similar documents for entrepreneurs in their respective jurisdictions.
Keywords: Absolute monopolistic practices, relative monopolistic practices, illicit concentrations, sanctions, recommendations for the implementation of an effective LFCE compliance program, monitoring, audits, internal complaints, risk map of an organization, codes of ethics, evaluation of the competition program.